This project is the brainchild of Henry Arts Alliance President and Creative Director, Lynna Schmidt, and has been in the planning stages for three years.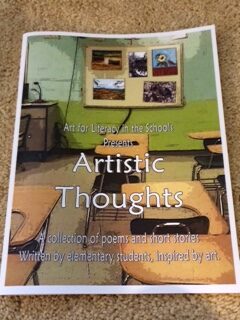 The goal is to connect visual arts and student writing, as a way to develop and enhance creativity. Students in local elementary schools will write stories, poems, or essays about a piece of art produced by a Georgia artist. These writings will be compiled into a book along with photos of the original art.
The young students will become published authors!
The idea came to fruition as a pilot project in April/May 2016. This booklet is an example of what we want to do. It is the result of pilot project at Flippen Elementary School. Permissions were obtained, specifically, the cooperation of the Superintendent of Schools, Rodney Bowler. Six local artists gave us permission to use selected pieces of their work. (Note – One of the artists is a high school student whose piece of art was selected by our organization as the "Best of Show" for 2016 in our annual High School Art Show, which we have sponsored for 19 years.) The pieces were photographed and enlargedso that students could view the art with ease in a classroom. The teachers gave directions for writing, using the writing process that is typical of English language arts teachers in the local system.
The result is that 30 entries were submitted, inspired by the pieces of art. Retired educators selected representative pieces. They are published here. This will serve as an example of what we want to do in many elementary schools to engage young writers.
Funding is needed to print the booklets in the future. A copy of the book will be given to each student, each artist, each teacher, and the school media center at each school and the local library.